Five Tips for Snowshoeing with Dogs
Five Tips for Snowshoeing with Your Pup
1. Determine if your pup would enjoy this activity. Some dogs get are not up for snowshoeing and it may be too much for them. You know your dog, if they are an active breed they very well may like being in the snow!
2. Prepare Your Pack(s).
Snowshoeing is basically hiking in the mountains in the winter. Just like when you hike at other times of the year you need to bring the 10 essentials. In winter the list is a little longer. For details on what to bring on a snowshoe hike click here. In addition, humans who hike with dogs need to bring some extra items for their pups!
Here are a few things we suggest:
Extra dog food or dog energy bars

Water for your dog/dog travel bowl--you do not want your dog drinking water from natural streams if possible. Wildlife can transmit diseases to your pup.

Extra coat and booties for your pup--your pup may get wet during your trip and having dry clothing is essential in the winter. TIP: Stay away from cotton. Cotton provides no warmth when wet.

Small plastic bags for dog waste. You will want to remember your bags because all owners are responsible for packing out their pups waste.
3. Find a Dog-Friendly Hike Snowshoers often share space with skiers, and in Washington State we have several snow areas with groomed (for cross-country skiers) trails. Some groomed areas DO NOT allow dogs. Dogs leave tracks that can poke holes in the groomed areas, so you will want to keep Fido off those areas. Note that dogs (other than service animals) are not allowed at our national parks. There are some exceptions to this rule when it comes to back-country trails and other locations within the national parks. You will want to contact the national park for details. Please note that there is a difference between National Parks and National Forests. National Parks in Washington State include: Mt. Rainier, the Olympic Mountains, Lewis & Clark National Historical Park, and the
One spot we really like is the Pacific Crest Trail at Snoqualmie. You can find it off of exit 52 heading eastbound on I-90.
4. Make sure to keep your dog on a leash when necessary. This is for the safety of you and your pup! Certain areas (for example there are some areas within National Forests) do not require your dog to be on a leash, you will need to make sure you can call your dog to you at all times.
WARNING: Wildlife can be very dangerous to pups and their human companions. Wildlife may be attracted to your dog. We have black bear, wolves, coyotes, and foxes in Washington State. Often times we think of bears, wolves, and coyotes being the animals to be cautious of. Please be aware that elk and deer have been known to kick and severely injure or even kill dogs.
5. Keep an eye on your surroundings and your trail. Snowshoeing in well trodden areas is a good idea, especially for beginners. Get yourself a map of the area and know how to read it. REI and The Mountaineers have regular classes on maps and navigation. It would also be a good idea to take a class on avalanches and what to watch for. Be aware of deep snow near trees and over creeks. Areas near trees can create what are called "tree wells," while creeks can create areas where the water underneath cuts through the snow. You or your pup could fall through these areas. Please note that snow fall can be very deep. On a recent trip the snow pack was over 7 feet deep.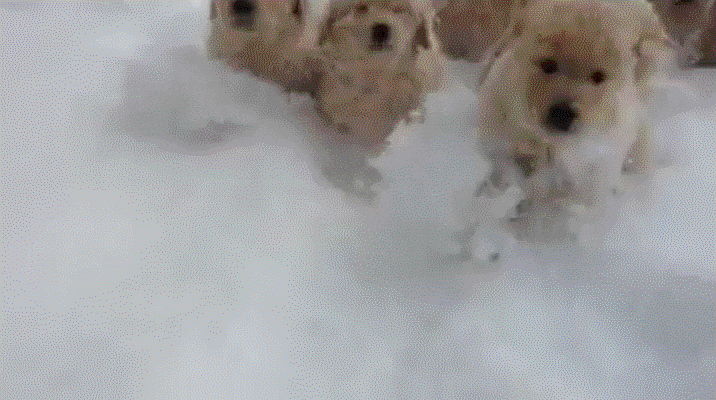 We encourage you to GET OUT THERE! For more suggestions and tips for traveling and exploring the world with your pup, sign up to receive the bi-monthly Seattle Pup Pack News. Scroll down to the end of this page to add your email to our list.